Backup integrity check
The backup integrity check ensures that only reliable copies of data are stored during the backup of computers and VMware machines. The IDrive BMR device performs a three-tier check during the backup operation:
A block-by-block checksum verification before and after data transmission.

A built-in error correction mechanism to verify data before writing it on the IDrive BMR device.

On backup completion, a filesystem mount check is executed to verify the availability of the data needed for a successful restore.
The status of the final check is displayed in the IDrive BMR device interface and communicated over regular email notifications.
Backup integrity status of computers and VMs
To check the integrity of the latest computer/VM backups, go to Dashboard > Computers/VMware machines > Integrity status. The integrity status will be displayed as Good or Bad.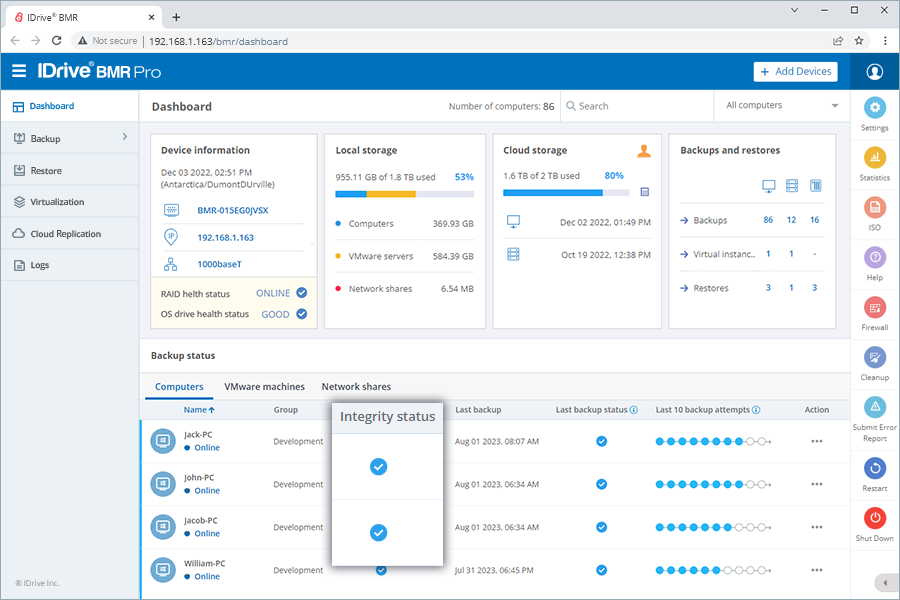 For the integrity status of older backups, go to Logs > Computers/VMware servers > Backup logs and check the Status and More info column for required devices.